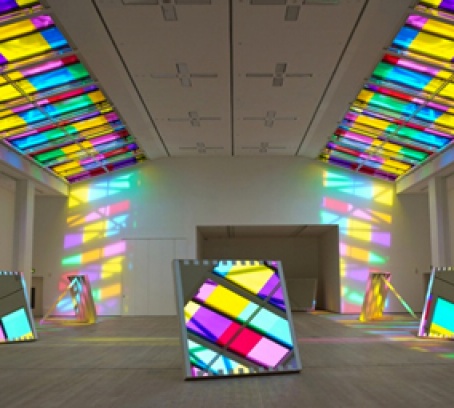 EUROPE | Catch as catch can: works in situ
2014-07-16
Czas czytania 2 minuty
This summer at BALTIC Centre for Contemporary Art, Gateshead presents the work of Daniel Buren. The artist has played with the light and colour to create an unusual variable interior of the building. Catch as catch can: works in situ will be open to the public until 12 October 2014.
Daniel Buren is widely considered to be France's greatest living artist and has been one of the most important figures in contemporary art for the last 50 years. During his project, he has staged a large-scale intervention at BALTIC, colouring the windows of the building's west façade and saturating its interior with coloured light. The whole building has become a spectacular artwork for visitors to experience differently according to the time of day and the intensity of the light from outside.
Also on show are new and existing works in the Level 3 and 4 galleries, including an ambitious, large-scale commission for Level 4 that explores and responds to the remarkable volume of the gallery space.
In BALTIC's Level 3 gallery, Buren presents a selection of rarely seen reliefs, paintings and sculptures from the past seven years alongside three new works made especially for the exhibition. Luminous fibre optic works from the artist's
Electric Light series (2011)
continue his preoccupation with form, space, light and colour. Other works made with paint, fibreboard and tape play with depth, surface and architecture provide fur ther insight into the breadth of Buren's practice.
Working with the architecture of BALTIC's Level 4, Buren has realised an ambitious intervention which explores and responds to the remarkable volume and scale of the gallery space.
A series of large sculptural mirrors will reflect and refract light from coloured windows above, creating an immersive environment which shifts throughout the day.
Source: press release