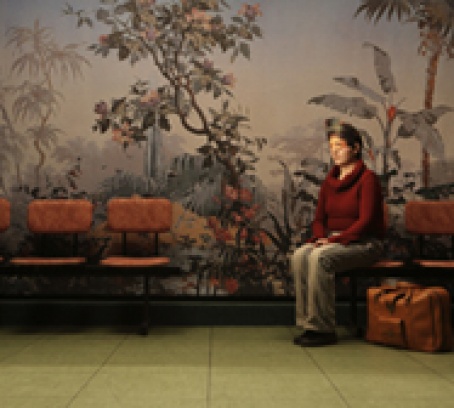 EUROPE | Interior portraits
2014-07-08
Czas czytania 4 minuty
On 10th July in Monaco, the exhibition Portraits d'Intérieurs will introduce the different areas of Villa Sauber re-visited presented by five contemporary artists. It will be available for visitors until 18th January 2015.
Drawing from a repertory of forms borrowed from literature, art history, stage and film, Marc Camille Chaimowicz, Danica Dakic, Brice Dellsperger, Nick Mauss and Laure Prouvost renew our perception of the former abode of the English painter Robert Sauber by developing different elements of decors in each of the museum's rooms.
The source of
Portraits d'Intérieurs
lies in a private collection of rooms, through two installations by the artists Marc Camille Chaimowicz and Nick Mauss, specifically rekindled for Villa Sauber.
A laminated plywood screen unveils the installation
Jean Cocteau...
– an imaginary bedroom of the poet, inspired by the decor of
Les Enfants Terribles
(1929) and made out of painted wooden panels, carpets, and various pieces of furniture and objects that Marc Camille Chaimowicz made or found. Placed throughout the former living room of Villa Sauber, these elements recreate an old-fashioned bourgeo is interior that resembles the "chamber theater" imagined by Cocteau, a combination of memorabilia and references to art history.
In connection with this installation, Marc Camille Chaimowicz presents a selection of works chosen from the NMNM's collections, underpinned by Jean Cocteau's relationship with the Ballets Russes and the Principality of Monaco. Christian Bérard's ethereal drawings for Cotillon and
La Septième Symphonie
are shown alongside
Le Grand Dieu Pan
, A unique ceramic piece, which Jean Cocteau made in 1958 for the Cap d'Ail theatre, and that is presented for the first time at the NMNM.
Nick Mauss' piece
Concern, Crush, Desire
is a reconstruction of an antechamber decorated by Christian Bérard in 1939 for Guerlain's Champs-Elysées Institute, and encases the works selected from the NMNM's collections in yellow velvet and cotton appliqué. Nick Mauss' drawings in teract with several set decoration projects: Pavel Tchelitchew's scenery for the ballet
Ode
, an annotated scale model of the set created by Natalia Goncharova for
The Peri
, as well as two photographs in which Constantin Brancusi captures Lizica Codreanu dancing to
Satie's Gymnopedies
, and Cocteau's drawings of Bérard made up and dressed as a transvestite.
The theatrical dimension of these interiors and the confusion between the exhibition space and the space of the stage are extended in five video installations, inter alia,
Wantee
,
Isola Bella
and
Body Double
.
For the exhibition
Portraits d'Intérieurs
, the NMNM is producing a specific publication bringing together five posters created by the artists on view. Villa Sauber is opening a new shop, offering, in particular, artists' wallpapers, publications and ceramics.
For the duration of the exhibition, the design of the
Salon de Lecture
will be entrusted to Antoinette Poisson, a Parisian decoration firm specialised in the restoration and edition of domino wallpaper. Three styles of papers drawn, printed, and painted using 18th century traditional techniques will be specially reissued and associated with the votive boxes preserved at the NMNM.
Source: press release