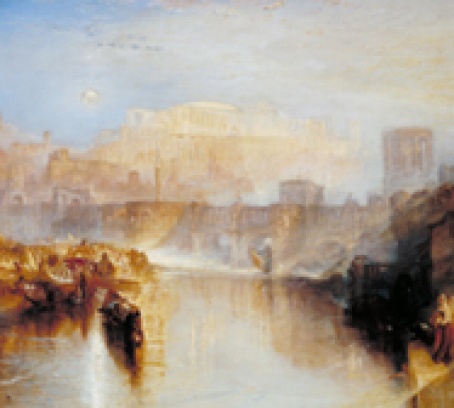 EUROPE | Late Turner
2014-06-26
Czas czytania 3 minuty
From 10 September 2014 to 25 January 2015 the exhibition Late Turner – Painting Set Free will be open at Tate Britain in London. This is the first exhibition to examine the achievements of Turner's body of work during his final period (1835-50).
The show will present work produced after the artist turned 60 – a time when some of his most revered paintings were created. It will demonstrate how these years were full of exceptional energy and vigour, initiated by one of his most extensive tours of Europe. The exhibition will show that, far from becoming an 'elderly' artist, Turner remained a radical. Exploring new techniques and processes while using new materials, the proof is on display that the artist lived up to his great reputation right until the end.
The show will include such iconic works as Ancient Rome; Agrippina Landing with the Ashes of Germanicus exh. 1839, The Wreck Buoy 1849 and Heidelberg: Sunset c.1840.
Rather than focusing on any assumptions about the pessimism of old age, Turner maintained his commitment to the observation of nature. He brought renewed energy to the exploration of the social, technological and scientific developments of modern life, in works such as Rain, Steam, and Speed - The Great Western Railway 1844.
Turner also continued to engage with the religious and historical themes that linked him to the cultural traditions of his era. Featuring many large-scale oil paintings alongside drawings, prints and watercolour, the exhibition will address the sheer range of materials and techniques he embraced. It will also demonstrate his radicalism during this period
–
while his Victorian contemporaries were exploring other priorities, he continued to champion an unfettered creativity in which material practice was not just medium but meaning and message too.
The EY Exhibition: Late Turner at Tate Britain is the second EY Exhibition, part of the three-year EY Tate Arts Partnership. The first, The EY Exhibition: Paul Klee – Making Visible, ran at Tate Modern from October 2013 to March 2014.


Source: based on the press materials