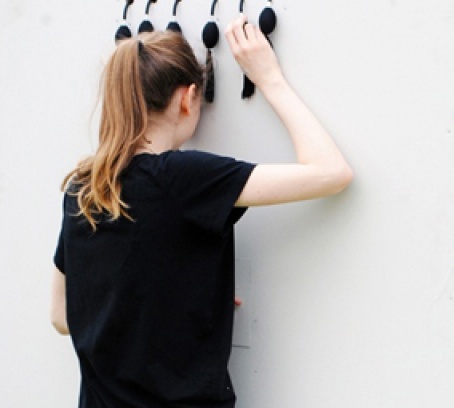 INTERVIEW | Daiana Samartseva
2014-08-25
Czas czytania 7 minut
University of the Arts London graduate, interior and spatial designer Daiana Samartseva performs sustainable social projects where she engages with small London communities through methods of design. As a part of her thesis project Memory lane Daiana has designed a full-scale scented memory cinema inspired by old South London picture houses. Designer's works were not appreciate by academics but also exhibited internationally.

Graduated… Interior and spatial designer, University of the Arts London – Chelsea College of Arts.

My education gave me as a result… Critically evaluate my work. Due to this my projects have become more rigorous, refined and mature.

I live in… currently in Kyiv but thinking of moving back to London.

My profession is… a lifetime adventure.

This profession taught me... not to limit myself to one direction in design. Versatility is a key.

My advice for people thinking about this profession... Forget about usual stereotypes when people think of interior design in terms of décor and do not fear explore non-commercial ideas. Extraordinary ideas often lead to great unique designs and can be always toned down for commercial use if needed.

The most important tool for my work is... user experience. When designing I am always thinking of end user. Watching people enjoying your end result is the best thing ever.

Most of my daytime I spent on... researching and learning from others. Visiting exhibitions, reading design blogs and various inspiration sources, exploring new techniques – the best way to develop your design awareness.

Teamwork is for me... crucial. It boosts high level of creativity.

What I like to do the most is... improve people lives through design.

My clients are... in the past I was working with small London communities. But different projects target different audience. I would like to be versatile.

Work is for me.... what makes me get up every day. "Without work, all life goes rotten, but when work is soulless, life stifles and dies" Albert Camus

The most difficult aspect of my work is... to stop thinking of my work. There is always way of improvement. Creative work never stops.

Competition is for me... great way for self-motivation and personal development.

I am inspired by... work of others. Japanese and Scandinavian minimalism, fine art and Soviet culture.

While I rest... I enjoy visiting new places. Combining active and passive rest.

If I had more time… I would spend it with people I love.

First money I earned I have spent on… giving to my parents.
 
If I wasn't who I am, I would… be still within the creative industry. I don't see myself doing something completely different.

I am proud of… how studying in the UK has changed my perception of design.

It's the most difficult to reconcile with... perception of design in the West and post-Soviet countries.

When I think about the future... I am quite calm. Everything happens for a reason. We are given choices on the way we live.

The closest challenge… is to get established in the design field.

The biggest success... receiving appreciation from people you have designed for.

The most important decision in my life… hasn't been taken yet.

The most important words I ever heard… "Keep developing, you have much more to offer".

My country means to me... a place which people truly love and ready to sacrifice their lives for its better future!

Connection in between culture and business is… essential. Business will fail to succeed if there is no cultural understanding.

Designer's website: http://daianaisd.tumblr.com


University of the Arts London graduate, interior and spatial designer Daiana Samartseva designed a full-scale scented memory cinema inspired by old South London cinemas.
 
Daiana performs sustainable social projects where she engages with small London communities through methods of design. For her thesis project she was member of design research studio and was based in Deptford High street market, South London investigating spatial 'conflict' to solve it by means of public design. Through collaborative games Daiana has gathered a lot of sentimental memories about Deptford. This research has lead to designing Memory lane cinema.

Starting points for many of designer's projects influenced by her childhood memories growing up in post-Soviet Ukraine. Ukrainian village life, propaganda art, Soviet architecture are often recalled in my projects, – says Ukrainian designer. Indeed, the idea of creating memory cinema came when Daiana firstly visited Deptford's market bric-a-brac stalls: "Smelling objects that used to belong to strangers in the past instantly evoked my childhood memories. I was present in London's market, but subconsciously I travelled to the past".

Memory lane cinema, was selected for exhibition of works by promising young designers held by Habitat London. This cinema is a tribute to rich Deptford's history. It is a trailer on the wheels that travels around the city screening film about Deptford's locals sharing their most treasured memories. Inspiration came from existed South London cinemas that used special antiseptic fragrances to prevent spread of tuberculosis. However, in her design Daiana designed a fragrance wall with special custom-made perfumes, sprayed while film screening to enhance user experience. Designer had a limited budget, but receiving First-class honours together with appreciation by professional proves that financial limitation often boosts creativity and enables better outcomes. University of the Arts London offers great funding schemes and support for students of six of its colleges, – says Daiana. In Chelsea College of Arts students have access to various workshops. When constructing her cinema designer spent almost a month in university's wood and metal workshops receiving technician's advice and help. The outcome together with research and technical work was documented in portfolio book, which has been exhibited in Habitat's UK Platform gallery on King's Road in London.

In future Daiana is thinking of studying Master's degree. During Chelsea College of Arts degree show Daiana was approached by professor from Royal College of Art inviting her to study Information Experience Design. However, for now designer wants to experience real working environment and continue her work in social innovation within small city communities.