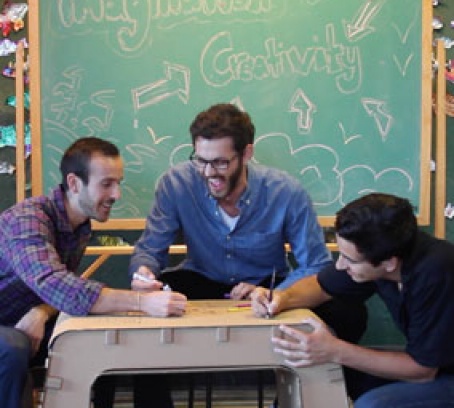 NORTH AMERICA | The Cardboard Guys
2015-07-01
Czas czytania 4 minuty
Chair that may become a plane, car or even a castle. Desk looking quite similar to a cute elephant right from a fairy tale. The Kids Imagination Furniture is a project of three Californian designers, who decided to create children's furniture entirely made of cardboard.
The story of unique project began at California Polytechnic State University, San Luis Obispo, where Justin Farr and Jordan Kepler due to their senior project, prepared a furniture out of fiberboard, commonly known as a cardboard. When their design was given a green light from the university support program for graduates, Jake Disraeli joined to endeavour, tempted by Justin's and Jordan's offbeat vision. That is how the Cardboard Guys were born with their aim of creating furniture at the same time eco-friendly, interesting and able to expand kids' imagination.
As the name says,
Kids Imagination Furniture
is designed to foster children's creativity — the Cardboard Guys try to fuse functionality with fun, creating furniture and toys in one body. Their items are highly interactive and enriched by a handmade potential — children get desks and chairs as a semi-finished products that require a free play of kids imagination, to become a real furniture. Plain cardboard let for painting its surface in any way and transforming ordinary furniture into unique adornment. Due to the fact that outer surface can be easily removable, kids can turn it and paint again. They can also add their own elements to the main construction, spinning off the shape even more. Another advantage of
Kids Imagination Furniture
is its solid structure — according to the designers, the chair is able to hold over 500 lbs.
The question is, can an ordinary cardboard, even painted in the most fantastical patterns, compete with the wave of electronic gadgets, more often consumed by children? Jake is convinced that the answer is yes:
Every time we tell kids they can actually sit on a cardboard chair and use a cardboard desk, their eyes light up. Cardboard emits a natural sense of wonder for kids, and when used in this non-traditional way, they really respond to it. Even in a world dominated by iPads and video games, the physical world is still just as interesting as it ever was. There's something special about actually creating something real, especially something that you get use every day.
According to Environmental Protection Agency, in United States 9,8 million tons of furniture is wasted every year. Recycling one ton of cardboard saves over 9 cubic yards of landfill space and saves 24% of the total energy needed for virgin cardboard. According to those facts, Cardboard Guys material for their furniture take with reliance to the ecology buying it from well-proven manufacturer from LA. Around 40-60% of cardboard used for
Kids Imagination Furniture
come from post-consumer recycled fiberboard. Rest of it comes from sustainable tree farm located in the Pacific Northwest, where for every tree cut down, seven are planted in its place.
Kids Imagination Furniture
combines an environmental care with desire to develop kid's invention. Currently, The Cardboard Guys succeed in raising funds and they are finally beginning a production.
Text: Weronika de Oliveira

Photos thanks to the courtesy of The Cardboard Guyswww.thecardboardguys.com