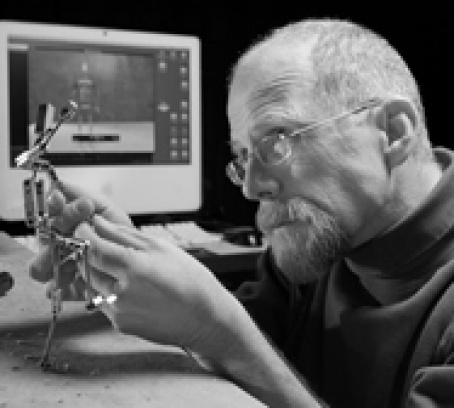 Interview with Tom Gasek
2013-05-24
Czas czytania 5 minut
Graduated…
with an MFA from the Art Institute of Boston at Lesley University and a BFA in Design from the Rochester Institute of Technology.
My education gave me as a result…
the opportunity to explore my creative side and put it into practice and a career.
I live in…
Rochester New York, (the home of George Eastman of Eastman Kodak) I have lived in San Francisco and Los Angeles, California, Portland, Oregon, Miami, Florida, Great Barrington and Boston Massachusetts and Bristol England.

My profession is…
I am a professor in the School of Film & Animation at RIT but I am still a practicing stop motion director and animator.
This profession taught me...
how to work creatively with teams of people and how to problem-solve.
My advice for people thinking about this profession...
You really have to love the work or you will be inconvenienced all the time. Be honest with yourself about the process of work and how you fit into it.
The most important tool for my work is...
communication.
Most of my daytime I spent on... the computer, talking to people and planning...
and sometimes I get to animate.
Teamwork is for me...
an extra effort that can pay off in a big way if the communication flows with enough give and take.

What I like to do the most is...
take hikes out in nature or in a city and let my mind wander. It's a kind of meditation for me.
My clients are...
demanding when it comes to trust, but that's a two-way street.
Work is for me...
a necessary evil that keeps the balance.
The most difficult aspect of my work is...
dealing with bureaucracy and feeling confident in my own creative decisions when I am exploring new territory.
Competition is for me...
self-induced. I don't compete with others, only with myself.
I am inspired by...
laughter, simplicity and the easy flow of ideas and conversation on any subject.
While I rest...
I try my hardest to "let it all go" and let the subconscious take over.
If I had more time…
I'd make more films (but it also takes money).
First money I earned I have spent on…
setting up my animation business, then my family (but don't tell my family...).
If I wasn't who I am, I would…
be a spiritual student and world traveler.
I am proud of…
my son and how he has tapped into his creative being.
It's the most difficult to reconcile with...
the fact that I have to make money to live.
When I think about the future...
I remain optimistic and hopeful despite the disparate directions we all go.
The closest challenge…
is too remain balanced in my life with work, family, social obligations and responsibilities. I have a tendency to isolate myself for long periods of time (mostly for work).
The biggest success...
for me is to have been working in the animation industry for over 30 years as a stop motion character artist with the best directors and teams in the industry and now the opportunity to share that knowledge and experience with another generation of animators.
The most important decision in my life…
was and is to overcome the fear of the unknown whether it be in my work or in life.
The biggest defeat in my life…
was devastating at the time, but I was able to eventually turn it around and make a strong positive situation grow from the fall.
The most important words I ever heard…
"The only thing we have to fear is fear itself" FDR 1933.
My country means for me...
A familiar ground where family, friends and a cultural history grew for me but I know it's only one perspective in a world full of exciting and diverse  points of view.
Connection in between culture and business is…
unique to each culture, but creativity, give-and-take, solid communication and understanding should always win out over money (unfortunately it's not always so...).
Tom Gasek is an award winning stop motion director and character animator with over 27 years of professional experience. He started his career by winning a Student Academy Award with partner Malcolm Spaull for their animated version of Lewis Carroll's "The Walrus and the Carpenter." Gasek earned his BFA from the School of Design at the Rochester Institute of Technology.
These days Tom Gasek lives in Rochester New York where he teaches at RIT. He continues to work in the animation industry on projects like "Chicken Run", "Wallace & Gromit", Aardman's "Creature Comforts America", Sony Bravia's "Play-Doh", Laika's "Coraline" and scores of commercial projects. He completed his animated film "Off-Line" in 2010 and will be completing his latest animated short, "Ain't No Fish" with British partner Miki Cash in the fall of 2013. His book "Frame by Frame" is one of the only complete resources on non-puppet stop motion techniques.
Thank Film Foundation Se-ma-for for help in the implementation of the interview.